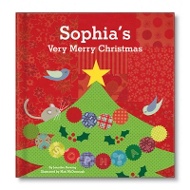 My Very Merry Christmas Personalized BookCHECK PRICE
If you're looking for a fun gift for a young child this Christmas, a personalized storybook is a great idea. Kids will love being the star of their own book!
These fun stories are great for reading before bedtime.
Each one is colorfully illustrated and includes your child's name multiple times throughout the book. There are two Christmas stories available and a Hanukkah book, and there are also other non-holiday stories you can personalize online to read and enjoy all year.
If you'd like a story just for Christmas, you can choose between "A Christmas Bear for Me" and "My Very Merry Christmas."
"A Christmas Bear for Me" is a personalized story about a child who wants a special teddy bear friend, and this book comes with a cute teddy bear who matches the illustrations in the book.
"My Very Merry Christmas" personalized book is about a group of forest animals who are preparing for the big holiday.
Personalized books are a great way to get kids interested in reading, as they'll love hearing their name and finding it in the book. And they make great keepsakes, too!
Both books are available now at Pear Tree Greetings